WELCOME TO HULA HULA BABY STORE
At Hula Hula Baby, we've simplified your shopping experience. Putting together your baby's nursery is now easier than ever.
Our store offers a wide range of baby products and accessories that every newborn and parent needs!

All our products are delivered by trusted European brands and meet all safety standards.

We offer free delivery to all EU countries. Contact us for any questions or if you wish to place an order outside of the EU.
TWINS OR CHILDREN YEAR AFTER YEAR?
Side-By-Side
Tandem 2in1
Tandem 3in1
Tandem strollers

Looking for a safe car seat?
Check out our offer of
All-in-one travel systems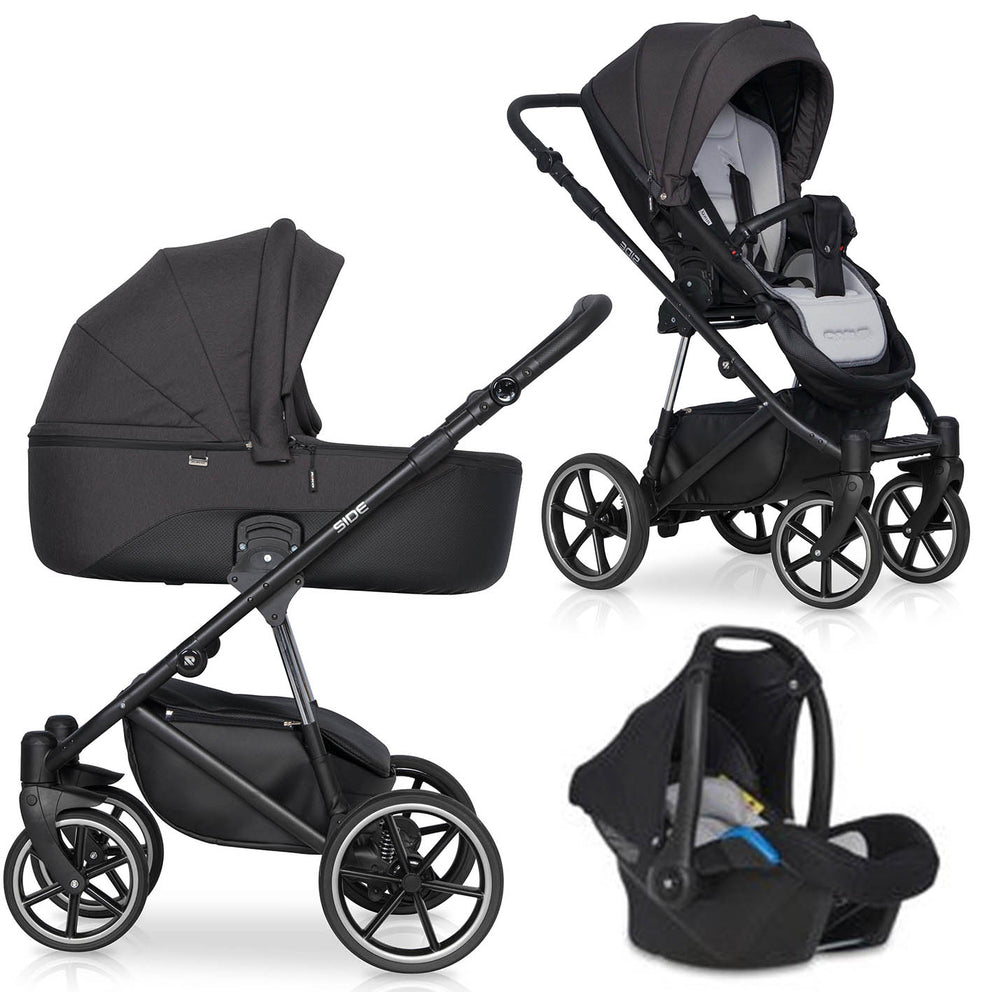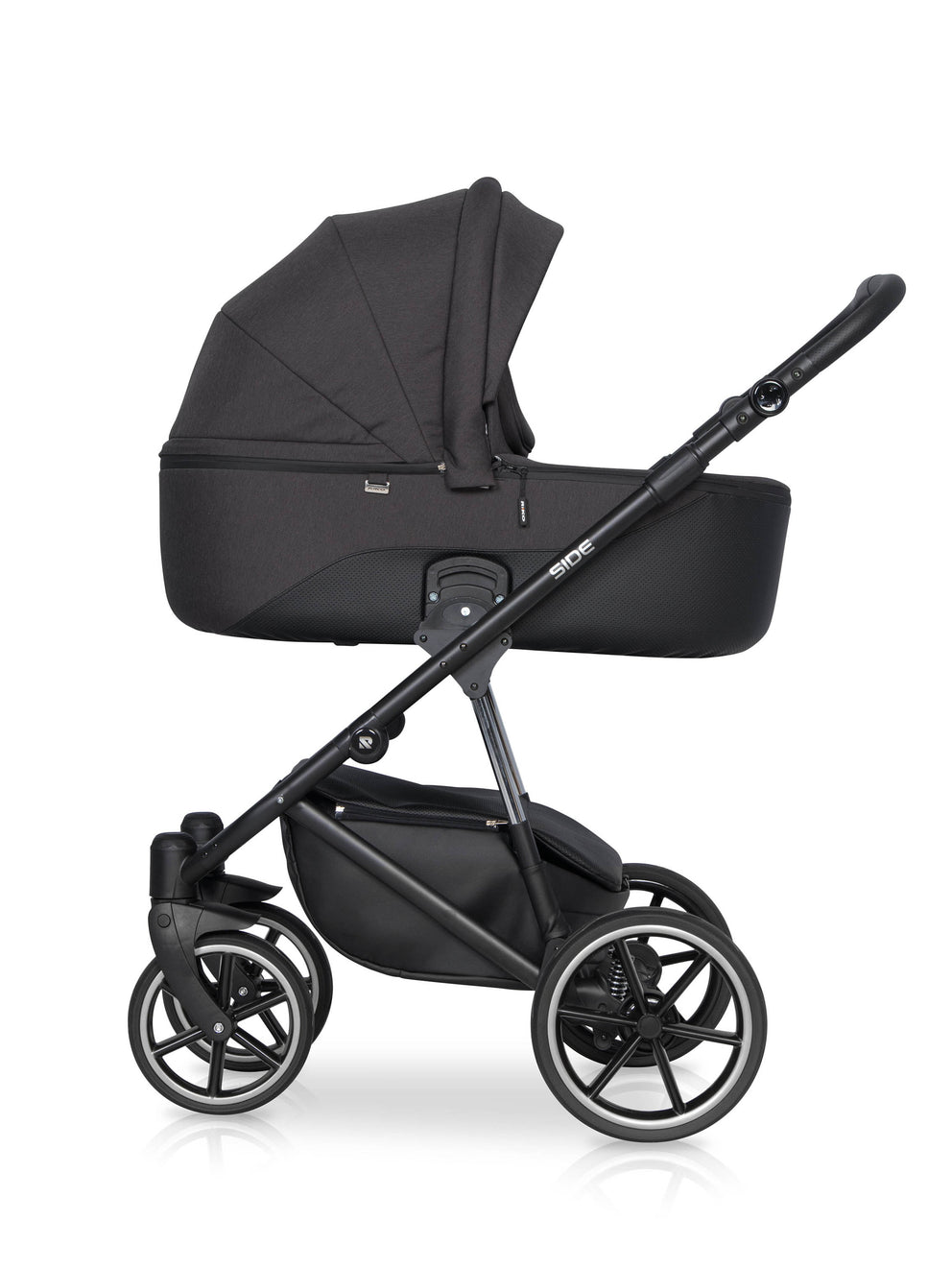 Riko SIDE 3in1 | Anthracite
€639,00
Riko Side is a stroller suitable for children from the first days. The carrycot is large and very comfortable. Included coconut mattress is great for your baby's delicate spine. The convenience is ensured by the possibility of adjusting the guide to parents height. The suspension adjustment system and Anti Shock provide great comfort for the child during walks. The Side stroller has been designed in accordance with the latest fashion and design trends as well as safety standards. This modern stroller will surely appeal to parents who are looking for a nice and functional model. CHARACTERISTICS OF THE PRAM: modern, multifunctional stroller with possibility to use with car seat 0+ Isofix ready light aluminum chassis large comfortable carrycot with cotton lining and backrest adjustment system coconut fibre mattress seat unit possible to install both front and back adjustable leg rest 4 positions of backrest including lying postion extra mattress in seat unit multiposition canopy foot cover 5-point harness system bumper bar adjustable height of the handle bar large shopping basket innovative tubeless PU wheels with ball bearings front wheels with shock absorption system ASS (Anti Shoch System) rear wheels with adjustable shock absorption system HDA (Heavy Duty Absorption) quick release system of front wheels QRS (Quick Release System) lockable/swivel front wheels link brake CHARACTERISTICS OF THE CAR SEAT: group 0+ car seat 3-point seat belts adjustment of the position of the carrying handle the possibility of disassembling the upholstery for washing detachable hood mattress European ECE R44 / 04 approval adapted for installation in a car on the original ISOFIX base This 3in1 set includes: chassis carrycot seat unit car seat Isofix ready large diper bag rain cover suitable both for the carrycot and the seat unit mosquito net for the carrycot changing pad Technical details: Unfolded frame with wheels: 58 x 104 x 94 cm Folded frame with wheels: 58 x 87 x 37 cm Handle bar adjusting range: 73-110 cm Seat width: 31 cm Back rest height: 49 cm Seat lenght: 25 cm Leg rest lenght: 23 cm Wheels diameter (front/rear): 24/29 cm Frame with wheels: 9,2 kg Carrycot: 4,4 kg Seat unit: 5,25 kg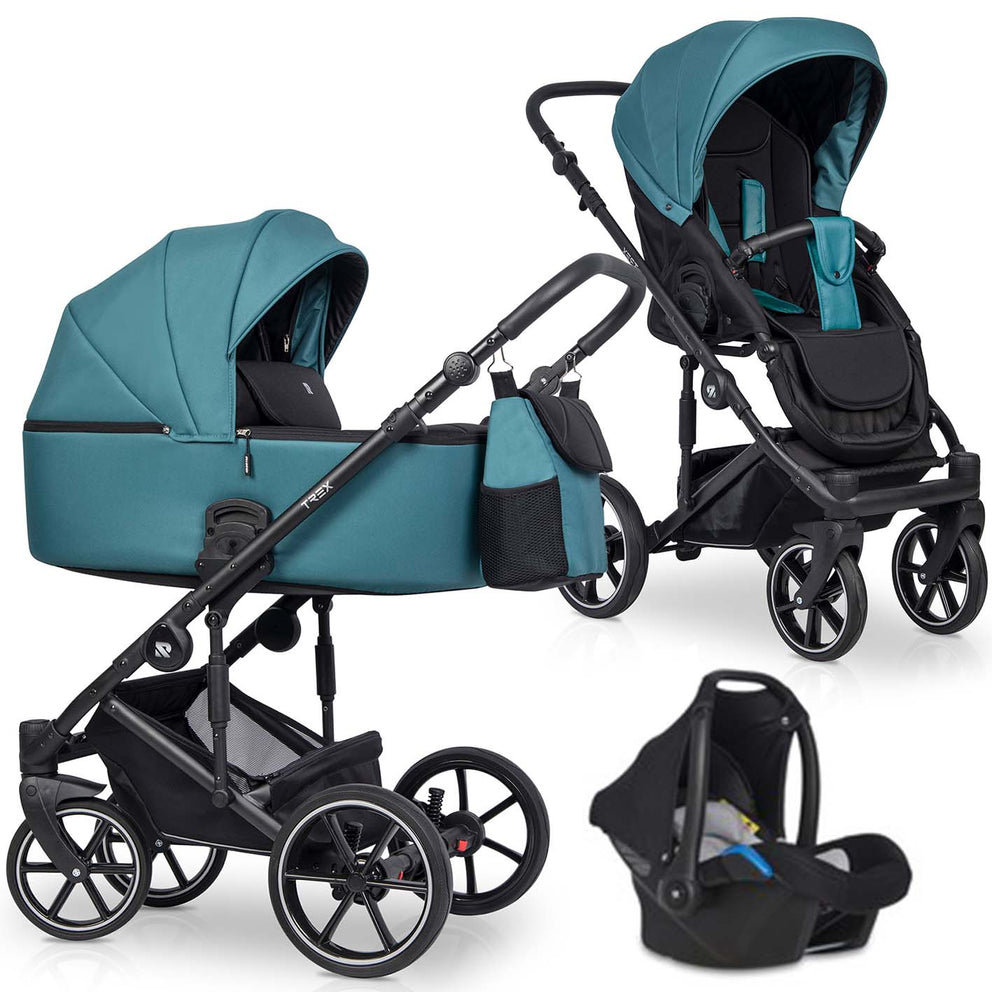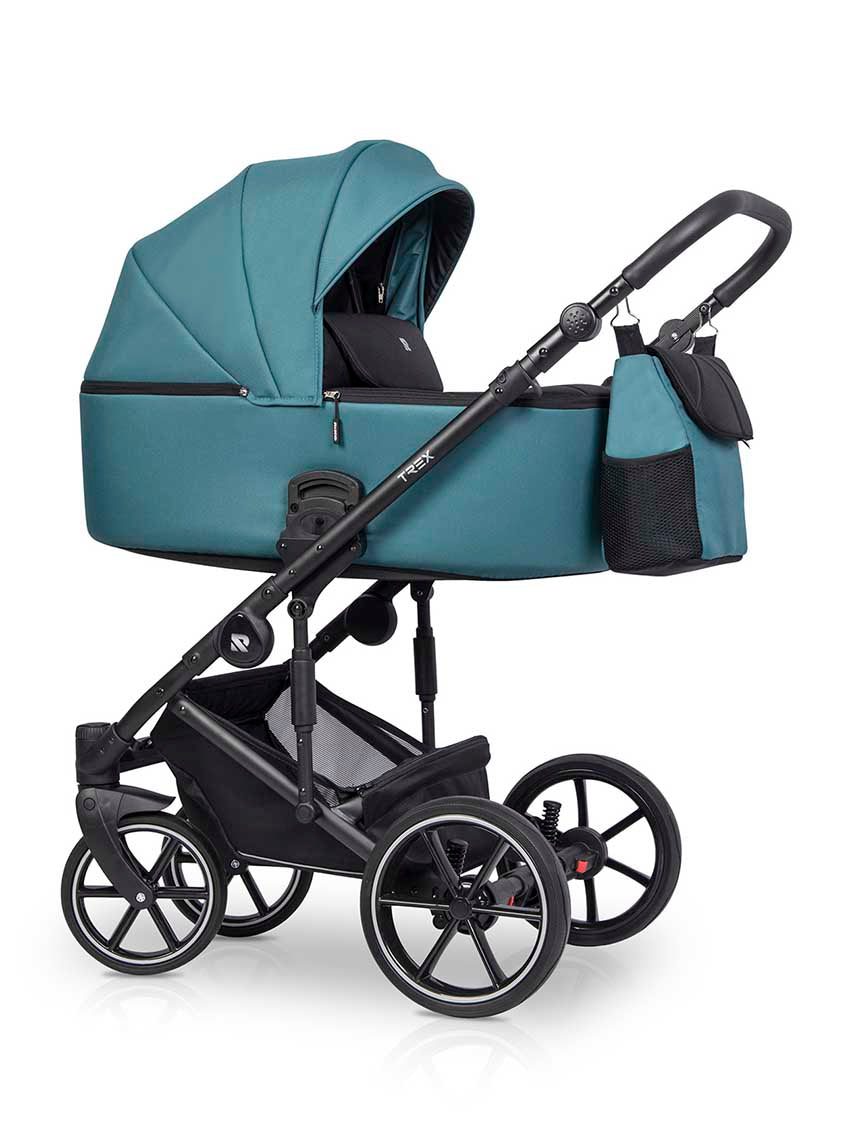 Riko TREX 3in1 | Lagoon
€549,00
If you are looking for comfortable and multi-function pram made in EU and in reasonable price, the Trex made by RIKO might be perfect pram for you. RIKO Trex pram is dedicated for children weighting up to 22kg, so it will serve for long time. High backrest and long footrest of seating unit will make it last for the whole time when needed.  The main characteristic of all prams made by RIKO is great shock absorbing system. Due to use of 3 independent shock absorbing systems, where 2 of them have stiffness adjustment, Riko prams without any problems will handle all kinds of surfaces from even floors to paths in the woods. The large wheels with tubeless tires are quiet and practically maintenance free, and will provide good amortization.  The carrycot of Trex is large and comfortable. It has backrest height adjustment, that is very practical during driving it downhill (it will help you avoid situation when baby's head is below feet level). The canopy has quiet adjustment, that prevents baby from waking up from its noises. The cover of the carrycot is made with a thought of sleeping baby and its flap is closing with magnets. Inside there is cotton linen and sponge mattress.  This 3 in 1 set contains: frame with carrycot and seat unit car seat car seat adapters foot cover for seat unit rain cover mosquito net for carrycot practical bag that can be hanged on the handle PRAM'S SPECIFICATION: Multi-function pram dedicated for children weighting up to 22 kg accordingly to safety standard PN-EN 1888-1-2:2019 Three independent shock absorbing systems: adjustable shock absorber of carrycot/seating unit, adjustable shock absorber of rear wheels and front wheel shock absorber Riko Kite 0+ ISOFIX Ready and other world well-known brands car seats available to mount with use of proper set of adapters Aluminum frame Reversable seating unit  Footrest adjustment 4-stage backrest adjustment including lay flat position Additional mattress made of soft knitwear  Adjustable canopy of seating unit 5-point harness Additional crotch stripe mounted to the safety barrier Safety barrier with swerve function Safety barrier wrapped with practical eco-leather  Handle bar wrapped with practical eco-leather Handle bar with height adjustment Capacious shopping basket Easy access to the shopping basket Large and practical bag mounted to the handle bar Rain cover fits both carrycot and seating unit Mosquito net for carrycot Innovative bearing wheels with tires made of polyurethane  System of amortized and self-adjusting front wheels (Anti Shock System) System of stiffness adjusting HDA (Heavy Duty Absorption) Front wheels quick release system QRS (Quick Release System) Additional shock absorbing system of carrycot and seating unit with 2-stage stiffness adjustment ESA (Extra Soft Absorption) Self-adjust front wheels with go straight lock Central brake TECHNICAL SPECIFICATION: Unfolded frame with wheels: 58cm x 95cm x 103cm Folded frame with wheels: 58cm x 76cm x 39cm Handle bar adjustment range (from the ground): 96cm – 110cm Handle bar in straightened position: 103cm Internal carrycot dimensions (length/width/height): 75cm x 36cm x 21cm Seat width: 33cm Backrest height: 49cm Seat depth: 26cm Footrest length: 23cm Wheel diameter (rear/front): 24/29cm Weight of the frame with wheels: 8,5kg Carrycot: 4,4kg Seating unit: 4,8kg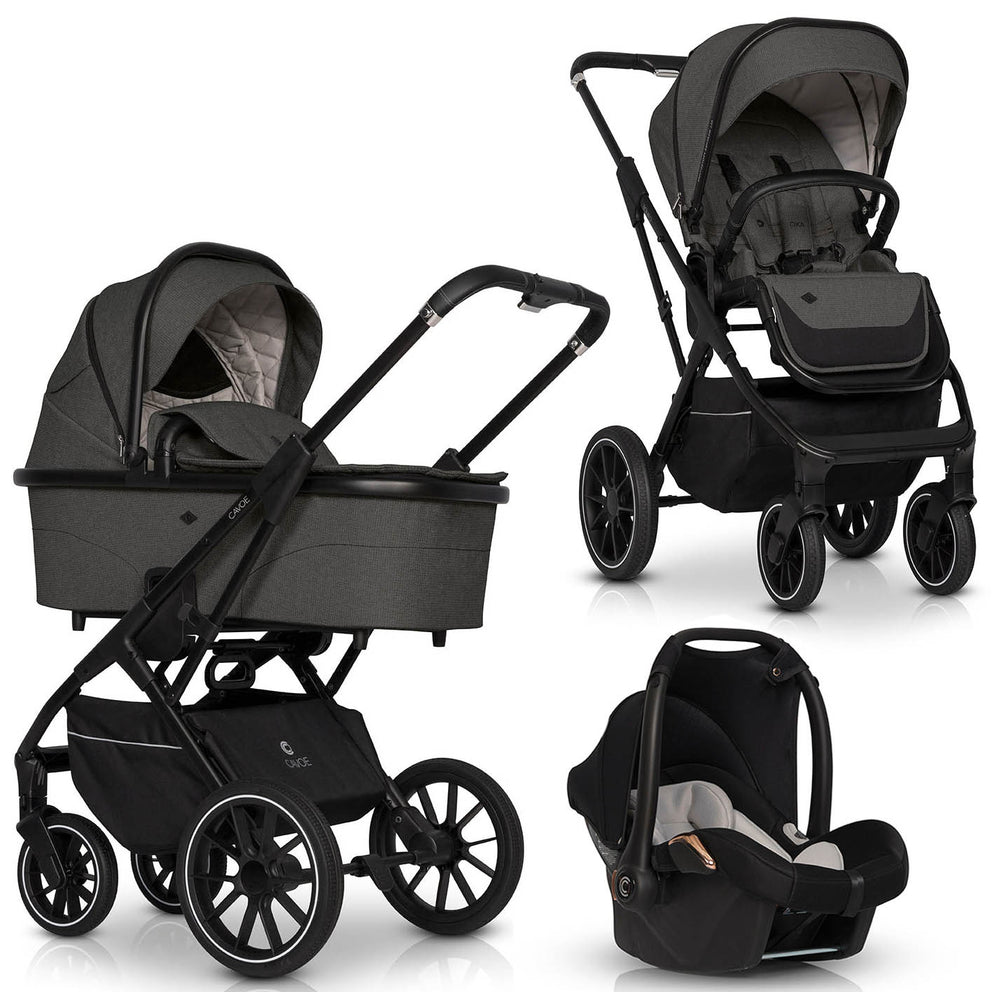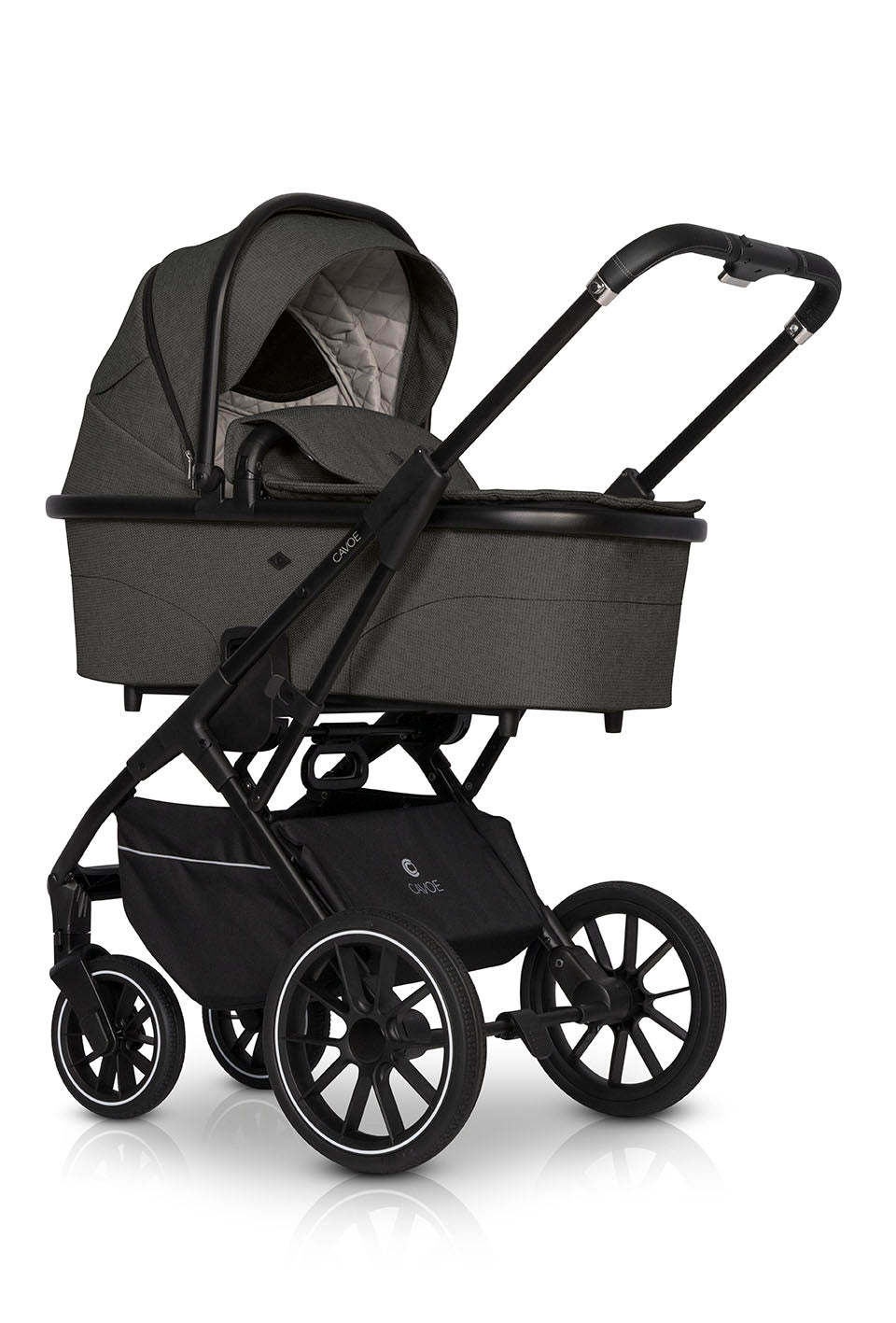 Cavoe AXO COMFORT 3in1 | Shadow
€649,00
Cavoe Axo is a pram with big wheels for parents with big expectations. Designed for both newborns and older children, it's a perfect example of a multifunctional pram up to 22 kg. It's a great solution if you're looking for a pushchair with excellent shock absorption and big, rubber wheels for all kinds of surfaces. Equipped with a tubeless rubber tire and universal tread, the wheels of Axo provide incredible grip even in difficult weather conditions. Stable and safe driving is guaranteed even on wet or snow-covered surfaces. Aside from that, Axo offers interchangeable seats that can be installed both backward and forward towards the road. If, however, you need a stroller for infants, Axo is available with a carrycot as well. In addition to that, it comes with an innovative, 3in1 sleeping bag that can be used as bedding in winter, as a warmer for the baby's legs, or as a mattress for the seat. Thanks to the adapters for car seats, you also have the option to turn Axo into a safe and convenient travel system for kids. It truly is one of the most comfortable, reliable, and stylish pushchairs for children up to 22 kg.  Main advantages of the Axo pram: A modern multifunctional stroller designed for children from birth up to 22 kg Seat unit that can be mounted forward and rearward facing Folding the stroller with the seat mounted backward and forward Large wheels with bearings and rubber tires (great grip also on snow) Self-aligning front wheels with the possibility of locking for straight driving One-hand folding system Shopping basket under the stroller Reflective element on the basket (better visibility and safety) Safety standards: Certificate of compliance with the EN 1888: 2012 standard This 3in1 model includes: Carrycot Seat unit Car seat Cavoe 0+ Accessories included: Rain cover for the carrycot Rain cover for the seat unit Innovative foot cover Mosquito net Practical bag (the bag can be used as a changing mat) Adapters for the car seat Dimensions [cm] Seat version:  95 / 57 / 105  Version with carrycot:  101 / 57 / 114 Folded frame with seat and wheels:  80 / 57 / 51 Folded frame without seat and wheels:  64 / 47 / 28 Seat width:  31 Backrest height:  48 Seat depth:  21 Footrest length:  20.5 Total length of the sleeping surface:  85 Diameter of the wheels (front / rear):  20 / 29.5 The interior of the carrycot:  78 / 33 / 20 Bag:  38 / 25 / 18 Weight [kg] Frame with wheels: 7.7 Seat: 3.8 Carrycot: 5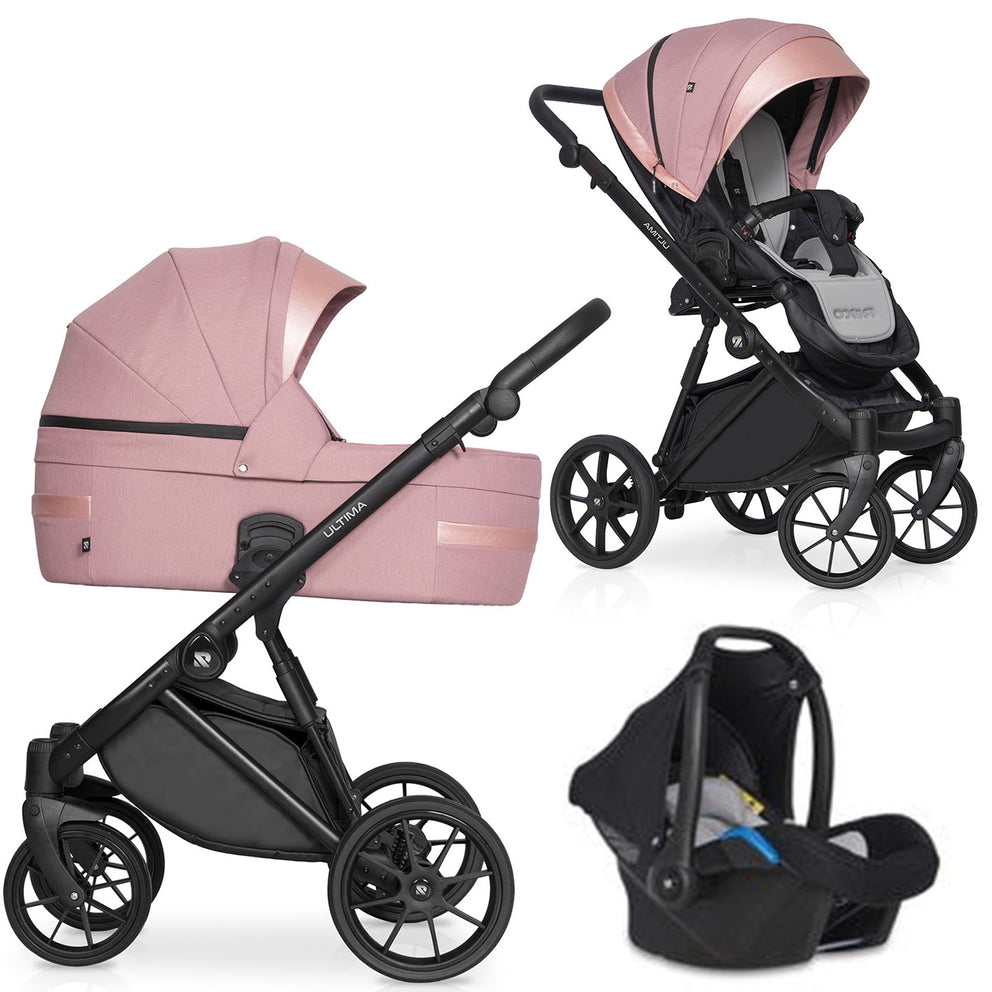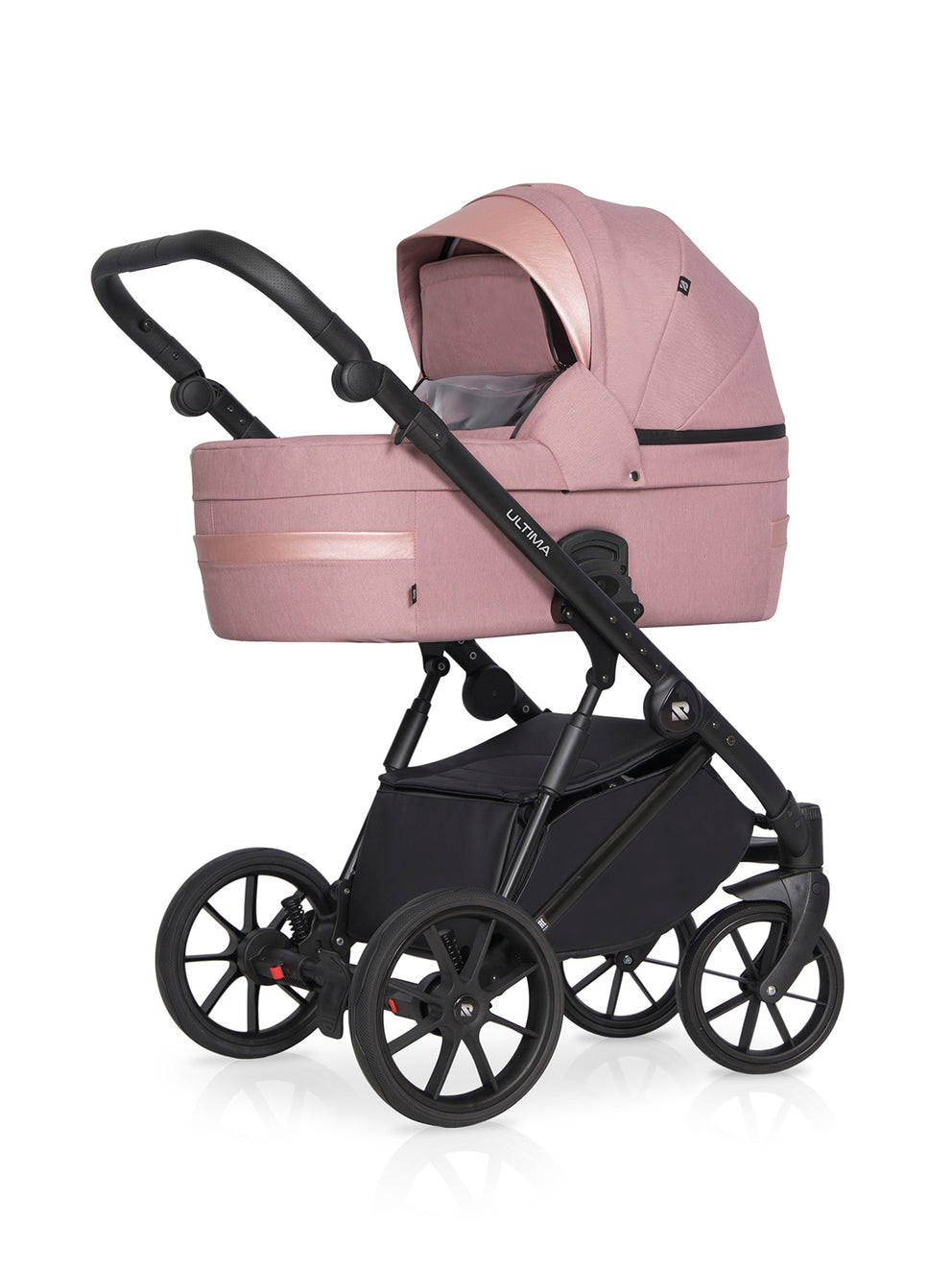 Riko ULTIMA ULTRA LIGHT 3in1 | Pink
€669,00
When designing the ULTIMA ULTRA LIGHT stroller, we combined two seemingly contradictory functions: excellent shock absorption and low weight. ULTIMA ULTRA LIGHT has as many as 3 amortization systems: ASS (Anti Shock System) self-aligning cushioned front wheels Adjustable hardness of the rear HDA (Heavy Duty Absorption) suspension system System of additional shock absorption of the carrycot and seat with two-stage ESA (Extra Soft Absorption) hardness adjustment Additional cushioning is provided by lightweight tubeless wheels with flexible polyurethane tires that do not harden at low temperatures.ULTRA LIGHT means extremely low weight. It was achieved thanks to an innovative carrycot made of PIOCELAN material, used, among others, in Formula 1 cars. This material is extremely light and resistant to damage. It also has many additional advantages: ACOUSTICS - Thanks to its unique properties, the ULTIMA ULTRA LIGHT carrycot perfectly muffles the sounds of the environment, which allows for an increased sense of comfort, positively influencing the child's sleep quality and its proper development.WEIGHT - The carrycot is made of extremely light materials, thanks to which carrying it with the child does not require much effort. Despite its large size, the carrycot weighs only 3.5 kg, which is an excellent result and has a significant impact on the weight of the entire stroller. ERGONOMIC FORM - The ULTIMA ULTRA LIGHT carrycot has a shape appropriately selected for the child's body, ensuring healthy and sustainable development. Due to its high impact strength, the carrycot does not break in the same way as plastic, but only gradually bends. PIOCELAN - The ULTIMA ULTRA LIGHT carrycot is made of a material called Piocelan. It is an intelligent hybrid that combines the advantages of polystyrene and polyolefin. It is a high-strength material; solid and versatile.Here are the most important unquestionable advantages of this material with other traditionally used solutions: RESISTANCE TO DEFORMATION PERFECT ACOUSTICS - Thanks to its properties, Piocelan perfectly muffles the sounds of the environment, which allows for an increased sense of comfort, and when used, for example, in children's prams, it positively affects the quality of a child's sleep. LIGHTNESS - Thanks to its structure, Piocelan used in products can significantly reduce their weight RECYCLING - The construction of Piocelan allows for recycling, thanks to which the material is environmentally friendly. THERMAL INSULATION - The materials used allow to maintain a constant temperature of the child, protecting it from overheating or cooling down. NANOTECHNOLOGY - Thanks to the present silver particles, Piocelan does not allow the growth of bacteria and microorganisms, which makes it extremely friendly and safe for health. ELECTROSTATIC - Piocelan does not attract dust, pollen and mites, which is extremely important for people prone to allergies, because it has antiallergic properties. SHOCK RESISTANCE - Piocelan is used, among others, in Formula 1 cars. Thanks to its construction, it allows the shock to be absorbed and then evenly distributed over its entire surface. This is a definite distinguishing feature of Piocelan. This feature makes the product made of this material safe for health. CHARACTERISTICS OF THE PRAM: ultra-light, innovative carrycot made of Piocelan, weighing only 3.5 kg, light aluminum frame, coconut mattress seat in a walking version with the possibility of mounting forwards and backwards, footrest adjustment, 4-step adjustment of the seat backrest, including the lying position, an additional mattress on the seat made of soft fabric, seat booth adjustment, 5-point seat belts, additional crotch strap attached to the safety barrier, safety barrier with the possibility of tilting to the side, a barrier trimmed with practical ecological leather, trolley guide trimmed with practical ecological leather,\ height adjustment of the guide, a large shopping basket, easy access to the shopping basket, a large practical bag mounted on the trolley guide, innovative ball bearing wheels with polyurethane tires, a system of cushioned self-aligning front wheels (Anti Shock System), HDA (Heavy Duty Absorption) suspension hardness adjustment system, QRS (Quick Release System) front wheel disassembly system, system of additional shock absorption of the gondola and the seat with two-stage ESA (Extra Soft Absorption) hardness adjustment front self-aligning wheels with the possibility of blocking for straight driving, central parking brake. CHARACTERISTICS OF THE CAR SEAT: group 0+ car seat 3-point seat belts adjustment of the position of the carrying handle the possibility of disassembling the upholstery for washing detachable hood mattress European ECE R44 / 04 approval adapted for installation in a car on the original ISOFIX base This 3in1 set includes: frame carrycot seat unit car seat with possibility to connect with isofix base a cover for the child's feet, a rain cover that fits both the carrycot and the seat mosquito net for the carrycot practical bag TECHNICAL SPECIFICATIONS Unfolded frame with wheels: 57 x 103 x 93 cm Folded frame with wheels: 57 x 73 x 37 cm Handle adjustment range (from the ground): 65-110 cm The internal dimensions of the carrycot (length / width / height): 74 x 34 x 21 cm Seat width: 31 cm Backrest height: 49 cm Seat depth: 25 cm Footrest length: 22 cm Wheel diameter (rear / front): 24/29 cm Weight frame with wheels: 8.90 kg Carrycot: 3.50 kg Seat: 5.80 kg